Happy Summer to you! I know, I know, where have I been?
I appreciate your patience over the past couple of years. I took a hiatus from writing while resolving some personal things and while serving on the Historical Novel Society North American (HNSNA) Conference board, but, as they say, "I'm baaaaaack."
Hot off the press is my latest novel, St. Clements Bluff. It's the first of a new series, The Heart of St. Mary's County.
I'm excited about this book because it is a bit of a departure from what I typically write, which is women in unusual historical professions. St. Clements Bluff is set in my own local area and is about a woman who has to put her life together after tragedy strikes…only to find that it is harder than she could have ever imagined.
Don't worry, though, because I can't possibly write a book that doesn't have at least a little bit of history in it! This book discusses the Underground Railroad, the Oyster Wars, and even Moll Dyer the witch.
From the cover:
Raleigh Bishop's perfect life in rural St. Mary's County, Maryland, has just come to a shattering end. Her naval test pilot husband, Grant, has been killed in a flight accident, and Raleigh is left to pick up the brittle shards of that life. She prefers to stay hidden away in her grief but is unwillingly dragged out of it by the contents of her husband's will, which contain a shocking bequest.
Grant has left her St. Clements Bluff, an old Bishop family home with a noble background as a stop on the Underground Railroad. But serving as a safe house for escaping slaves in the 19th century is just the beginning of what Raleigh learns is a dark and winding history.
It is a history that someone is willing to keep secret at any cost.
Sound interesting? I hope you'll consider picking up a copy. It's currently available in eBook and Paperback. Finishing touches are in progress on the Audio version.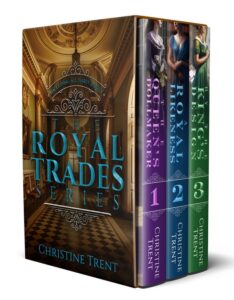 Another piece of good news is that I regained the rights to my first three novels, which had become increasingly difficult to buy in paper. I have repackaged them as the Royal Trades series and have ideas on paper for writing more books about women in unusual professions.
Thus, you can now find The Queen's Dollmaker, A Royal Likeness, and By the King's Design at your favorite retail outlet. I even have a special boxed set of all three in eBook format for only $9.99. That's just $3 per book!
Not only that, but for the first time there are now audio versions of the books available. (By the King's Design will release in a couple of weeks.) My lovely narrator, Maryne Young, is a master of dialects.
Buy Christine's Books!
You can find my eBook, Paperback, and Audio books available at these and other locations.
Amazon
Barnes & Noble
Books-a-Million
Chirp
Hoopla
Indiebound
Kobo
Scribd
Meanwhile, here's a hint about what I'm working on next: Did you know that the 250th anniversary of the signing of the Declaration of Independence is in 2026? Hmmm, I wonder what I could do to commemorate that? 😉
I'm also working on the second book in the Heart of St. Mary's County series, and I promise I have not forgotten Violet Harper! I'm about a third of the way into her next adventure, which takes place at the ruins of Pompeii.
I recently returned from the HNSNA Conference in San Antonio, TX. Here I am with one of our special guests, Lisa Wingate, author of Before We Were Yours. What a delightful speaker who has written about a fascinating—and tragic—piece of history.
It was wonderful to catch up with fellow author and friend, Margaret George. It was her novel, The Autobiography of Henry VIII, that made me fall in love with historical fiction.
Enjoy the rest of your summer!